International Course on Alien Species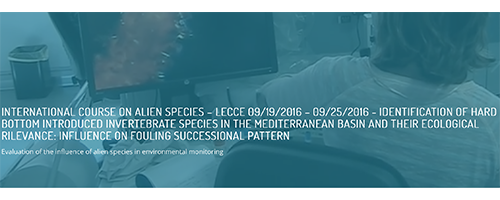 IDENTIFICATION OF HARD BOTTOM INTRODUCED INVERTEBRATE SPECIES IN THE MEDITERRANEAN BASIN AND THEIR ECOLOGICAL RILEVANCE: INFLUENCE ON FOULING SUCCESSIONAL PATTERN
Evaluation of the influence of alien species in environmental monitoring
Organizers: Prof.Adriana Giangrande and Dr Cinzia Gravili – Laboratory of Zoology and Marine Biology, University of Salento, Italy
Where: Lecce, 19/09/2016 – 25/09/2016, BIOforIU Premises (University of Salento)
Deadline for registration: 30/06/2016 – The course is limited to 18 participants. Seats will be reserved in the order of registration (Availability is on first come first served basis)
Preliminary programme: http://medalien.com/preliminary-program/
Registration: http://medalien.com/product/course-alien-species-lecce/
Course Description
The course will take place at the University of Salento (Lecce) for six days (from Monday to Saturday), under the guidance of Prof. Adriana Giangrande (specialist of alien species and polychaete annelids) and Dr. Cinzia Gravili (specialist of alien species and cnidarians, with particularly respect to the group Hydrozoa). The activity will be supported by the staff and the working group of the Laboratory of Systematic in Lecce coordinated by Professor Giangrande. and will take place in new Laboratories BioForIU
The course aims to analyze the influence of alien species on settlement patterns of fouling communities of the marine ecosystem, but is mainly focused on taxonomy and identification of sessile macroinvertebrate species. During the course tools to identify the major taxonomic phyla of the sessile macrofaunal groups of the fouling (Porifera, Cnidaria, Mollusca, Bryozoa, Polychaeta, Ascidiacea) will be provided considering that the identification of organisms to the species level is one of the major limitations within environmental monitoring of the marine environment. The course will consist of several lectures followed by laboratory practice on both alive and preserved material.
The course will provide teaching aids in the form of guides and other materials with reference (the Zoology and Marine Biology laboratories have reference collections of different phyla characterizing fouling)
It will include a series of seminars about alien species in the Mediterranean basin and their influence on the fouling succession. The practical aspects will be addressed through the material observation (both on material that participants can bring with them and fresh material for alive observation that will be provided by the organizers).
The material will be collected in the Gulf of Taranto which represents one of the most important site in Mediterranean concerning the abundance of alien species, only second to the Venice lagoon.
Website: http://medalien.com