EU-CELAC & LifeWatch ERIC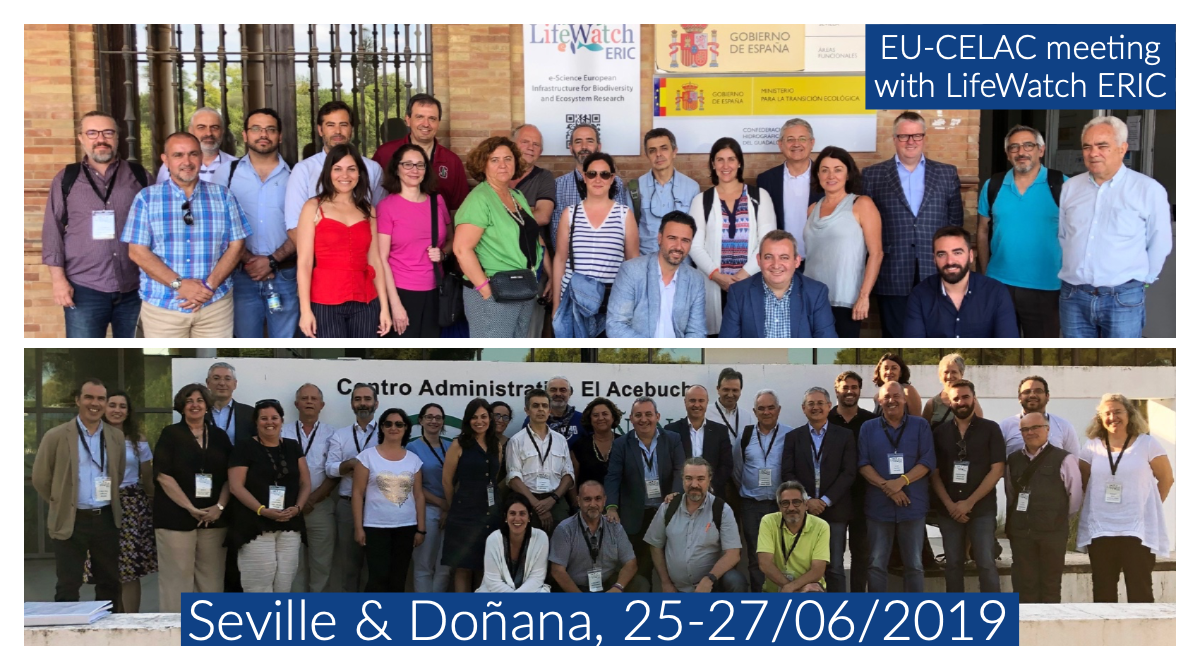 Towards sustainable biodiversity and ecosystem management through LifeWatch ERIC
From 25-27 June 2019, representatives of the Working Group on Research Infrastructures met in Doñana and Seville, Spain, in an inter-regional gathering organised by LifeWatch ERIC and promoted by the Spanish Ministry of Science, Innovation and Universities and the European Commission
Representatives from Mexico, Chile, Uruguay, Paraguay, Honduras and Spain, and international entities specialised in the field of Climate Change and ICT for Biodiversity and Ecosystems, such as the Climate KIC-EIT, AIR Center, and Copernicus initiatives, contributed to the meeting, which was organised with the support of the Junta de Andalucía and witnessed the presence of its Secretary General, José Carlos Álvarez Martín, and the Managing Director of the Agency for Agrarian and Fisheries Management of Andalusia (AGAPA), Raúl Jiménez Jiménez.
The theme of the conference was 'Finding synergies between EU-CELAC Research Infrastructures and LifeWatch ERIC in a scenario of global climate change'. The growing articulation of technological services enabling more and more advanced use of open and FAIR compliant data for the transfer of knowledge, the promotion of best practice, the definition of environmental indicators and the development of virtual research environments (VREs) dedicated to analysis, are all crucial factors that LifeWatch ERIC advocates. This makes it the most fruitful interface from which to start building a common strategy, to create the knowledge that assists the most effective decision-making processes to tackle global challenges, as the motto says: "Think global, act local."
"The Working Group on Research Infrastructures EU-CELAC made progress in defining priorities and concrete actions to support decision-making in political, scientific and citizen spheres," said the CEO of LifeWatch ERIC, Christos Arvanitidis. "We highly value the Working Group's commitment to working together towards the federation of biodiversity and ecosystem research infrastructures, and to commencing activities within LifeWatch ERIC, integrating digital services and tools".
The CTO of LifeWatch ERIC, and director of its ICT Technical Office in Spain, Juan Miguel González Aranda, together with the Coordinator of International Initiatives, Cristina Huertas Olivares, underlined that the meeting made significant progress towards the definition and planning of specific actions to address global objectives, such as desertification, water scarcity, invasive species, sustainable R&D agri-food and fisheries (circular economy), and the like, through the use of the most innovative ICTs. And all this within the framework of a policy of excellence of cooperation both from the European Commission and the Community of Latin American and Caribbean States, and at a bilateral level between regions, which was initiated in 2010.
Once again, LifeWatch ERIC has proved itself capable of reinforcing synergies and acting as an aggregator for many key players in the field of biodiversity and ecosystem research, from both government and business domains, demonstrating the relevance of its public-private collaboration initiatives with the EU's Regional Development Funds for Research and Innovation Strategies for Smart Specialisation (RIS3) as in the case of Andalucía in Spain and Puglia in Italy. Representatives from both sides agreed that the next steps to be taken to strengthen cooperation in research, innovation and technical development between the EU and CELAC are achievable through mutual interchange, recognition and cooperation.

Click here for a list of participants in the working party.